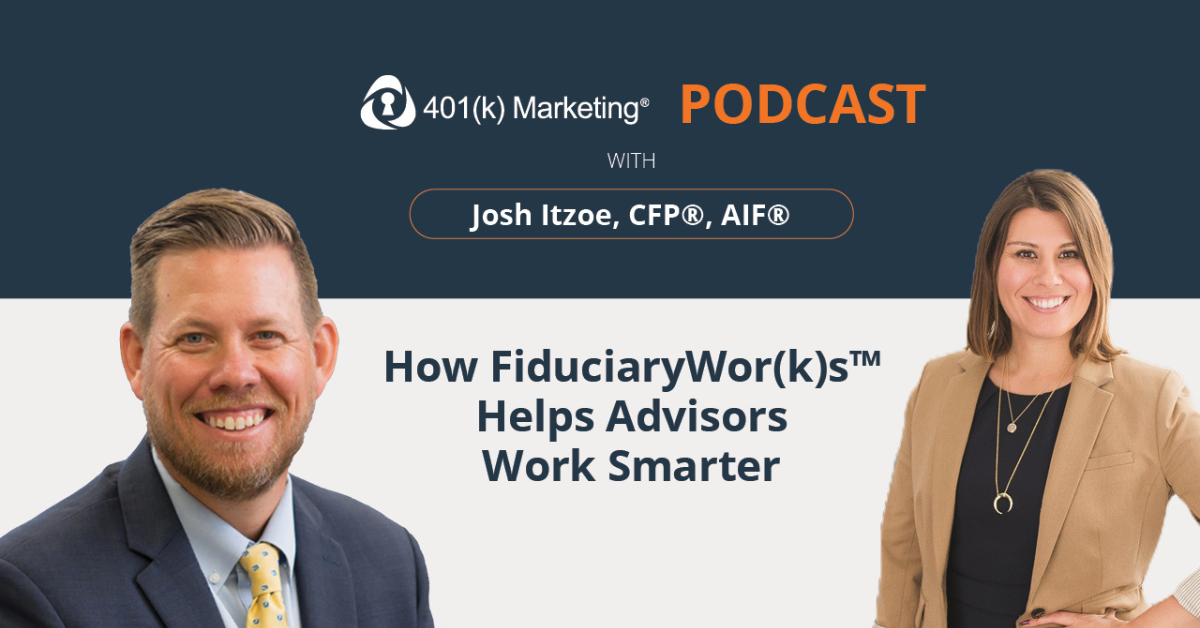 How Fiduciary Works Helps Advisors Work Smarter with Josh Itzoe, CFP®, AIF® (Ep. 30)
How Fiduciary Works Helps Advisors Work Smarter with Josh Itzoe, CFP®, AIF® (Ep. 30)
We've all heard it a thousand times: Work smarter, not harder. Discover how to work smarter and become a hero to your clients with FiduciaryWor(k)s.
In this episode of the 401k Marketing Podcast, Rebecca Hourihan interviews Josh Itzoe, CFP®, AIF®, founder of FiduciaryWor(k)s and former co-founder of Greenspring Advisors. Josh discusses the challenges that advisors face in their business, including visualizing their value and creating efficiency and repeatability in their practice. 
Josh Itzoe discusses:
The importance of creating a consistent process

Why "casting a vision" is important for financial advisors to do with clients

How to leverage technology to increase efficiency and profitability

Ways you can become a hero to your clients

And more
Connect With Josh Itzoe:
Connect With Rebecca Hourihan: 
About Our Guest:
Josh Itzoe is the Founder & CEO of FiduciaryWor(k)s, where he focuses on developing insights, research, technology, fiduciary consulting, and practice management coaching to assist retirement plan advisors and employers in the areas of fiduciary responsibility and workplace retirement. As the creator of FiduciaryRx™, a web-based tool, he helps retirement plan advisors diagnose, prescribe, and improve Fiduciary Wellness™ for corporate retirement plans.

An Amazon Best Selling author of two books, "The Fiduciary Formula: 6 Essential Elements to Create the Perfect Corporate Retirement Plan" and "Fixing the 401(k): What Fiduciaries Must Know (And Do) To Help Employees Retire Successfully," Josh is also the host of the Fiduciary U™ Podcast and a frequent industry speaker.

With a track record of excellence, Josh has been named a Financial Times Top 401 Retirement Advisor three times (2016-2018) and nominated for the Top 100 Most Influential People in Defined Contribution survey by 401kWire. He is a CERTIFIED FINANCIAL PLANNER™ professional and Accredited Investment Fiduciary®.
Podcast: Play in new window | Download | Embed