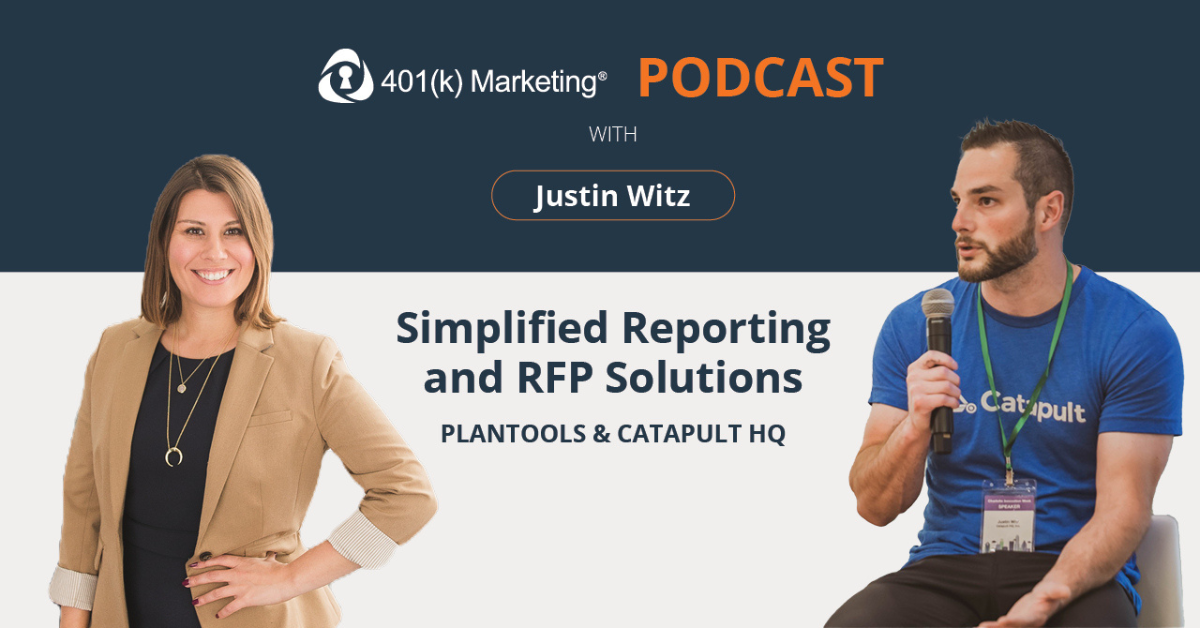 Simplified Reporting and RFX Solutions with Justin Witz (Ep. 31)
Are you struggling to keep up with the ever-changing landscape of the retirement plan industry?
In this episode of the 401(k) Marketing Podcast, Rebecca Hourihan interviews Justin Witz, co-founder of PlanTools, LLC and Catapult HQ, Inc. Justin shares his insights on where the 401(k) industry is headed and how technology can help advisors stay ahead of the curve.
Justin Witz discusses:
The importance of building trust with clients

How PlanTools helps advisors streamline their retirement plan reporting

How Catapult, as an RFX platform, helps bring automation into your practice

Why you should take a "consistently good, occasionally great" approach

And more
Connect With Justin Witz:
Connect With Rebecca Hourihan: 
About Our Guest:
A Veteran of the U.S. Air Force, Operation Iraqi Freedom and Enduring Freedom, Justin is the Co-Founder and CEO of Catapult HQ, Inc., a universal Request for Proposal ("RFP") platform which caters to every industry and project type to include RFP's, RFI's, RFQ's, DDQ's, Cybersecurity, Government and more. Catapult has won a plethora of awards within the local community as a top startup to watch and globally for its innovation, time and cost saving technology across the Fortune 500. Catapult reduces the RFx workflow by over 90% for organizations worldwide while standardizing their internal processes.
In addition, Justin has been widely recognized for the technology solutions he has built that brought three Target Date Solutions in the Financial Services – Retirement sector for AllianzGI, Merrill Lynch and the widely successful Principal Financial Groups Target Date Analyzer. In addition, he has built custom solutions for Vanguard, Nationwide and many others alongside publications by Google, Atlassian, Balsamiq, Forbes, ASPPA's Plan Consultant Magazine, Bloomberg BNA, 401kWire, 401k Help Center, StartCharlotte, Charlotte Stories, Charlotte Business Journal and he has spoken globally on project management, team empowerment, collaboration, entrepreneurship and additional topics at industry related conferences for Google, Atlassian, Startup Grind, NAPA, Excel 401(k), and CFDD.
Podcast: Play in new window | Download | Embed