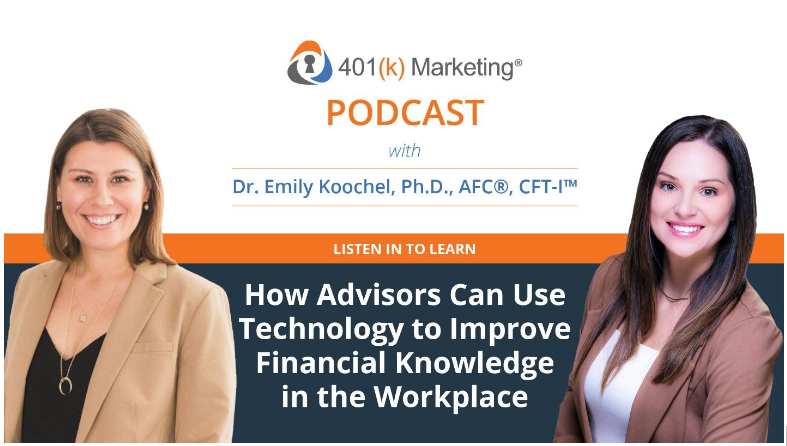 How Advisors Can Use Technology to Improve Financial Knowledge in the Workplace with Emily Koochel, Ph.D., AFC®, CFT-I™ (Ep. 24)
How Advisors Can Use Technology to Improve Financial Knowledge in the Workplace with Emily Koochel, Ph.D., AFC®, CFT-I™ (Ep. 24)
Creating financial peace of mind is a lifelong goal. As a result, finding innovative ways to talk about money in the workplace is crucial because there has been a wave of employee resignations across many industries due to financial stress. 
In this episode, Rebecca Hourihan sits down with Dr. Emily Koochel, Senior Financial Planning Education Consultant at eMoney Advisor. Dr. Koochel is an experienced financial professional, academic and researcher. Prior to FinTech, she served as an assistant professor where she taught courses in personal financial planning and working in the financial planning field. 
Here, Dr. Koochel explains what financial well-being is and how it can help individuals have a positive relationship with money. 
Dr. Koochel discusses:
Resources:
Connect With Dr. Emily Koochel:
Connect With Rebecca Hourihan: 
About Our Guest:
Dr. Emily Koochel is an experienced financial professional, academic, and researcher. She currently serves as a leader for eMoney Advisor's Financial Education and Wellness initiatives in her role as the Senior Financial Planning Education Consultant. 
Dr. Koochel's PhD in Applied Family Science and Master's in Financial Planning provide a multidisciplinary lens to inform her work where she focuses on understanding the effect of financial behaviors and financial decision-making on personal and financial wellness. She serves as a subject matter expert in the field, reviewing and authoring peer-reviewed journal articles, book chapters, and contributing to public scholarship. 
Most notably she served as a co-author for the CFP Board's book The Psychology of Financial Planning and was awarded 2020 Outstanding Research Journal Article of the Year by the Association for Financial Counseling and Planning Education. She holds the Certified Financial Therapist I designation and is an Accredited Financial Counselor.
Podcast: Play in new window | Download | Embed