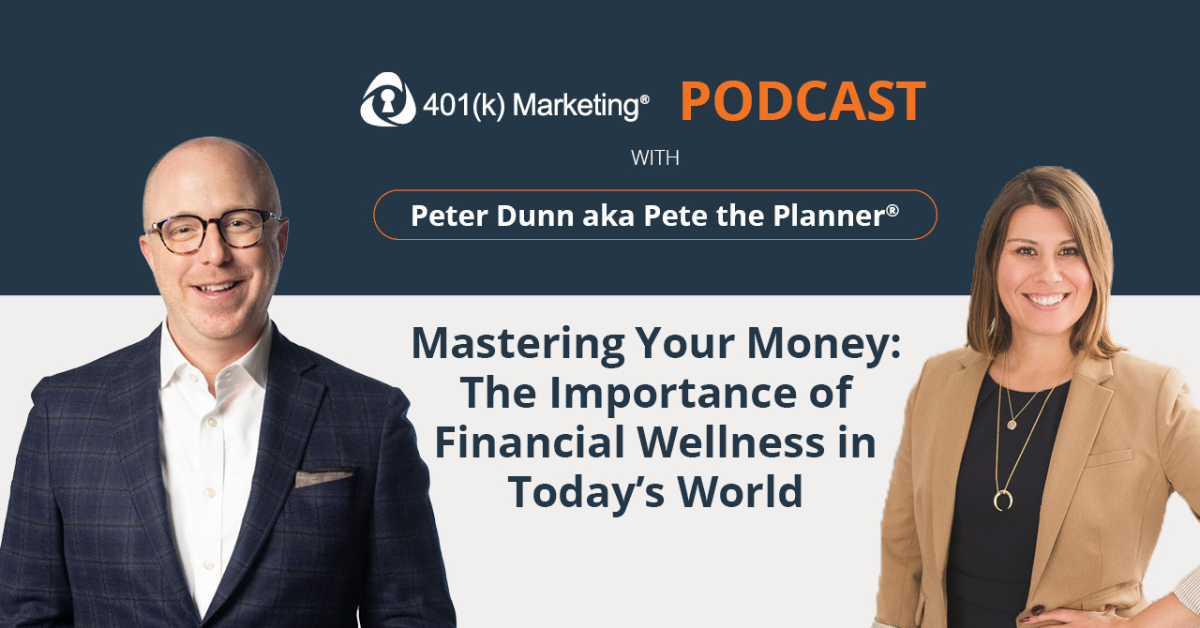 Mastering Your Money: The Importance of Financial Wellness in Today's World with Peter Dunn aka Pete the Planner (Ep. 28)
Financial success and failures can both boil down to one thing: financial wellness.
In this episode, Rebecca Hourihan welcomes Peter Dunn a.k.a Pete the Planner® on the podcast to share with listeners the importance of financial wellness when helping clients. He explains that it's more than just math and how sometimes, behaviors have just as much impact. 
Peter discusses:
Why he created Your Money Line and how it helped thousands of Americans

The direct correlation between behavior and retirement outcomes

How advisors can better serve their clients when financial wellness is taken into account

Who is accountable for an employee's ability to retire

And more
Connect With Peter Dunn:
Connect With Rebecca Hourihan: 
About Our Guest:
Peter Dunn a.k.a. Pete the Planner® is an award-winning comedian and an award-winning financial mind. He's a USA TODAY columnist and the author of ten books, six of which were featured in a nationwide launch at Barnes & Noble stores in January of 2015. He is the host of the popular radio show The Pete the Planner Show on 93 WIBC FM and is a columnist for the Indy Star. Pete has appeared regularly on CNN Headline News, Fox News, Fox Business as well as numerous nationally syndicated radio programs. Pete is regularly considered one of the top four national financial broadcasters in the nation.
Podcast: Play in new window | Download | Embed